Modern Office Desks in Brisbane
Are you shopping for new office desks, but don't know which option is best for you? On this page you'll find a huge selection of high-quality office desks and the help to choose the right one for your requirements. You'll find the help handy if you're struggling to choose the correct office desk and need guidance along the buyer's journey.
Read More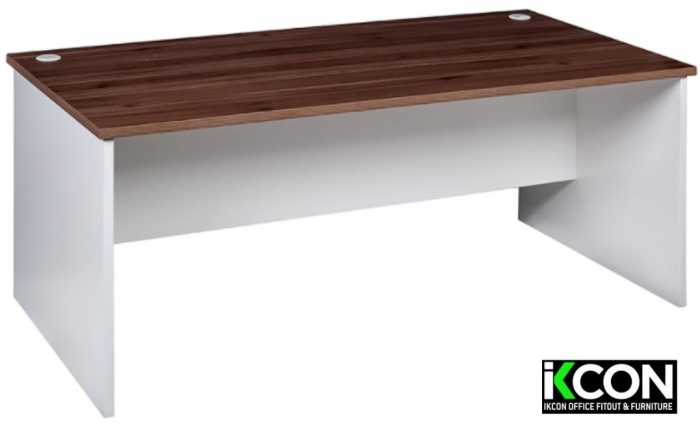 With so much choice on the Ikcon Office Fitout and Furniture website, you're going to find the right office desk in Brisbane specifically for your requirements. You can buy the new and 'on trend' height-adjustable 'sit to stand' desks, reception desk, corner desks, computer desks back to back desking systems, multi-workstation systems, the flexible height-adjustable desk top stands and much more. Continue reading to learn more about the desks that we have on offer, and how you can choose the ones that compliments your needs.
Contact for Custom Office Desks
Need instant advice on how to get the right Brisbane computer desks? Then give us a call on (07) 3821 1662 to get the help that will make it easier to choose the appropriate model. Our experienced customer service team work with all types of Brisbane companies and offices every day. Therefore, they have the expertise and knowledge that can fast track your search, and enable you to enjoy a smooth office desk buying experience.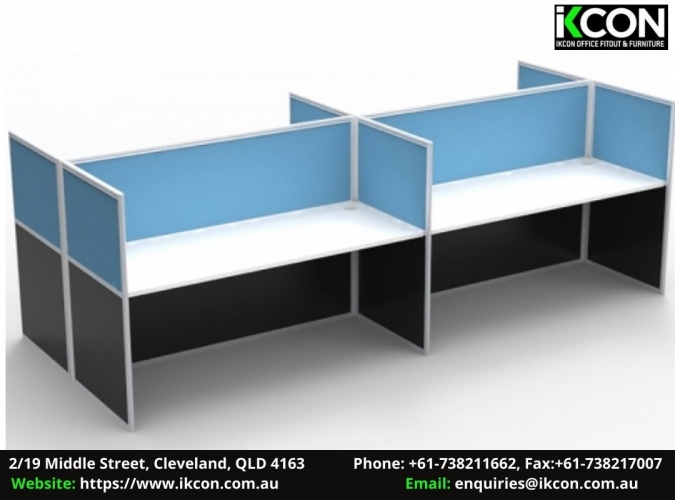 Alternatively, use enquiries@ikcon.com.au to send us an email with your questions. If you prefer to write your questions, we'll get back to you promptly – depending on the volume of enquiries we are dealing with at the time.
Office Desks Buying Guide
Step 1: Choose the right office desk type
Start by consider the various types of desks that we have available. Many can be used for different purposes and it's important to buy office furniture that has the flexibility to fill various roles. However, for specific uses a particular category of desk works best. Here are a few office desk categories to consider:
Corner desks: these have the advantages of providing a larger work space – sometimes for small and awkward spaces. Therefore, you can enjoy a good amount of surface area without taking up too much space. Also, they usually come with storage compartments – drawer units and the like, which means you can organise the workspace to help reduce and avoid clutter on the desk top.
Height-adjustable desks: these allow you to change the height of your desk easily and therefore regularly throughout the day. That's great if you want to mix up between a sitting and standing position while working. You can also get height adjustable desk top stands if you want save some money and use your existing desk.
Workstation systems: These are designed to provide work space for multiple people. It's perfect if you have a team of employees that work closely together, and want to maximise the amount of office floor space that's available. Some come with dividers to provide each employee privacy at their desk.
Standard desks: these are simple straight desks in a format of a rectangular desk top. They are versatile and can be used in many areas of an office. It helps to have a few around if you need extra desk space at short notice.
This is just a sample of the desk types we offer. We invite you to browse through our website pages to get a better idea of what other desk types we have to offer.
Step 2: Who will use the desk?
Consider the needs of the office worker that will use the desk. It's the correct way to determine the type of desk that is a perfect match for their work. For example, if they need to be in close proximity with colleagues, then a multi type workstation that holds up to 8, 10 or 12 people might be best. Do they have health or back issues from sitting too long? Then a height-adjustable desk may be a better option.
Step 3: Price
Make sure you are able to buy all the office desks that you need for your Brisbane office. Running out of funds after you've only met half the office's needs is not a smart way to go about the shopping process. We offer value for money office desks, and regular discounts so you can get a great deal. Please contact our customer service team if your looking for larger quantities of office furniture, we will be very happy to offer a bulk discount.
Step 4: Read the product description
It's handy to take a closer look at the product description and images to get a better idea of what each desk has to offer. The features indicate the desk types that are the perfect match for your needs. You can learn things that you can't tell by looking at the photos alone. You can also give us a call if you need more information about the specific detail of an office desk that you're interested in buying.
Step 5: Visual Aesthetics
Do the looks of the table matter as much as the function? Then you'll need to pay attention to the visual aesthetics and they can vary from one model to the next considerably. There is enough choice at Ikcon to choose a desk design that's the perfect match for your interior décor. Don't know what style you need? Then give us a call and we can offer you unbiased advice. Our friendly customer service staff understand how office desks contribute to the overall practicality and look of an office space.
Frequently Asked Questions
Question: Can you help me choose the right office desk?
Answer: We have a lot of experience building offices and choosing office furniture that's a good match for the needs of the client. Therefore, you can count on us to give you a helping hand when making decisions. Don't hesitate to pick up the phone and get in touch with our experienced staff members.
Question: Do you offer office desks discounts
Answer: You can find discounts for our desks that vary from day to day, and week to week. Therefore, it's a good idea to check back regularly to find a great deal.
Don't forget to contact us if you're buying larger quantities, we love to do a deal!
Question: What type of office desks do you sell?
Answer: we sell a huge variety of desk types for the modern office in Brisbane. You'll find everything that you need in one location for your convenience. With so much choice you can upgrade a large office space and meet the needs of every requirement.
Read Less