Over the last year, smaller office spaces have become far more common, whether it be a smaller commercial office or a home office. However, it can be challenging to design a smaller office space and make it the best space for you. We've done some digging into office spaces and have nine office design ideas for designing a smaller workspace!
1. Use Under-Utilised Spaces For A Home Office
Suppose you want to design a home office; deciding where your office will go is the crucial first step. Of course, the idea that first comes to mind is to give your office its full-sized room in the house. However, what if you don't have ample space for your home office?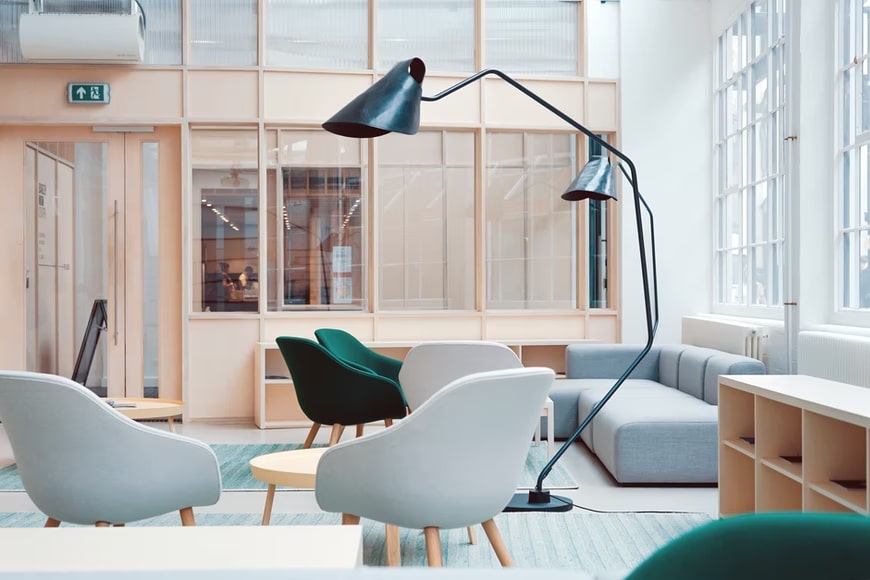 Multiple underused spaces may be perfect for your home office space. A few of these spaces include:
Using space on your landing;
If you have a pantry that you don't use often, you could repurpose it as a small office;
You can use an unused shelf by moving further down a wall and using it as a desk;
You can renovate small rooms such as a cupboard under the stairs into a home office.
2. Use A Fold-out Desk To Save Space
If you can't find a smaller room to create your home office in, an idea to consider is getting a fold-out desk in a larger space that's already in use, for example as a living room & a dining room.
You can buy DIY fold-out desks with drawers underneath for storage; these desks usually look like a cupboard when you unfold them.
You can also get custom fold-out desks made for you for an office fit out. Fitters can insert these into existing furniture, such as a cupboard, wardrobe, or bookshelf.
3. Consider Minimalism And Remove Unnecessary Clutter
If you go for the option of a smaller space for your office, it is imperative to use your space wisely.
With a smaller space, you have to remove any clutter. If you're surrounded by clutter, it can negatively affect your productivity and overcomplicate your office space.
It is a good idea to have space to store files, equipment, and other items so that all that needs to be on your desk is your computer equipment.
In addition, keeping a minimalist aesthetic can l keep you focused by taking away any potential distractions.
4. Comfortable Furniture
A design feature becoming more and more prominent in contemporary offices is better quality and comfier office furniture.
A well designed, good quality office chair is a great item to consider for a small office space or a home office. A great office chair is likely to be a little more expensive, but it's worth it for the extra level of comfort and the support for your back.
Some features to look for in a good office chair include:
Adjustable seat height;
Good quality seat foam
Full lumbar support on the back of the chair. Lumbar support will help your posture by pressing on your lumbar spine;
Seat tilt for added comfort if you don't want to sit fully upright;
Armrests with an adjustable height setting.
Another good feature to have in a small office is comfy chairs to sit on during lunch breaks.
As well as comfort, it's a Office Design Ideas to fit out your office with furniture that integrates technology.
For example, you can now buy desks that have integrated power outlets and cable management to put away your computer cables tidily.
5. Use More Colour
Knowing how to use colour to benefit your office design can be beneficial. Colours are being used more in modern office design because specific colours can affect people without them knowing.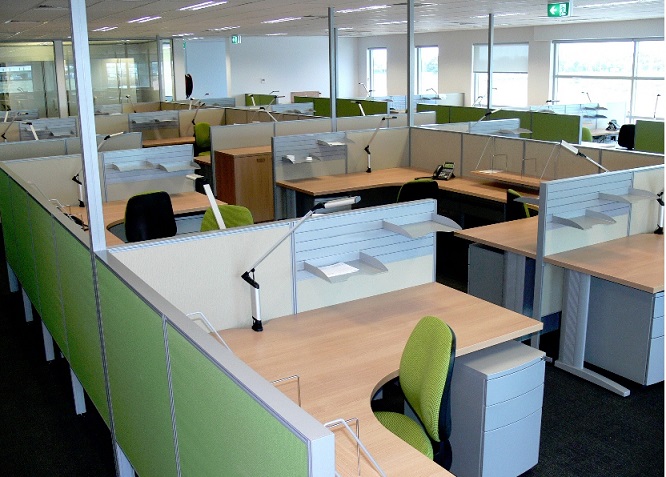 Some examples of this are:
Orange and yellow are colours that remind people of summer and often put people in a good mood;
Lighter blues are suitable to create a calm and soothing atmosphere. These colours can also help you focus;
Bright red and bright green colours can energise you and motivate you. These are useful for an office space.
6. Use Shared Desks For A Small Office Space
Smaller office spaces will have less room for multiple desks; a shared desk is a good compromise and has various benefits.
A shared desk makes the office feel more spacious and allows extra space for extra sofas, coffee tables, and kitchen space for lunch preparations. In addition, one shared desk removes walled-off cubicles and makes the office feel less claustrophobic.
A shared desk also promotes better cooperation and a more friendly work environment.
7. Let In More Natural Light
The worst thing you can do with an office is set it up in a dark space. Exposure to natural light efficiently maintains your sleep-wake schedule, which will improve your productivity level and mood. Artificial light is not a suitable substitute for natural light.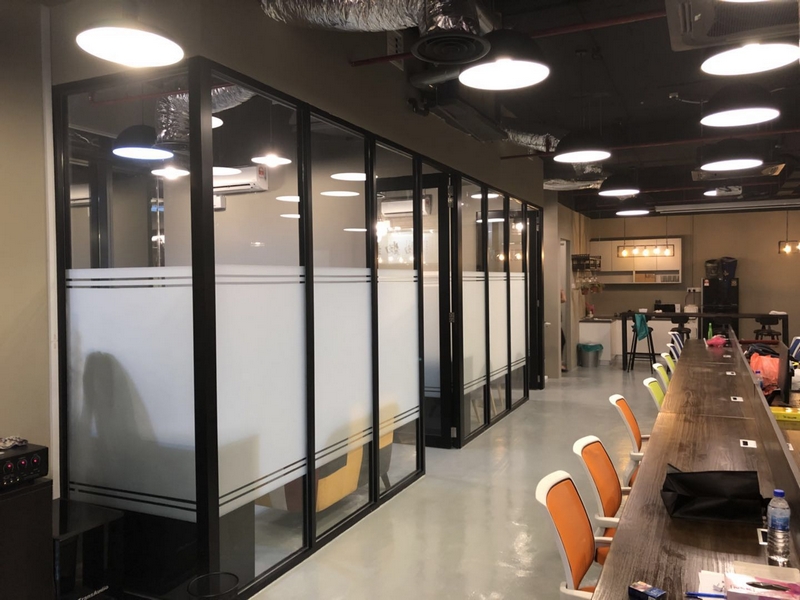 The easiest way to let in natural light is to set your office up near a window or multiple windows if possible.
If you can't set up right next to a window, it's a good idea to set a mirror on the wall in front of you or on your desk to reflect the light towards you.
If you need the space on your wall for storage in your home office and can't fit a mirror, using cabinets with a glossy finish will also reflect the light.
8. Utilize Vertical Space For Storage And Shelving
Using your available vertical space is most helpful if you have a home office with limited space. Instead of cluttering your desk or the area surrounding your chair, you should populate as much vertical space above your desk as you can.
A great way to do this is to have multiple shelves directly above your desk. You can put any filing cabinets or other paperwork you have on these.
You could also fit a power extension cable to the bottom of the bottom shelf, which will help you avert trailing cables on the floor.
9. Get Creative And Personalise Your Office Space
After you've considered and applied all of the critical aspects, personalising your commercial or home office space is a great way to finish everything off.
Decorating your office space with paintings, statues, books and more can make it feel more welcoming and transform it into a space where you want to work.
For a home office design, some people also find a mood board on a wall very helpful.