At Ikcon Office Fitout and Furniture, we understand the important role of functionality, efficient layout, and organisation in any work environment. However, we also understand that the first impression, in any business or company, is a vital factor. When entering an office, potential clients form a certain opinion or feeling about the company based on the atmosphere in the reception area. The professionalism and the integrity of the company are often demonstrated in the first contact with the reception area, and we only have one chance for the first impression. For these reasons, we put a lot of creativity and efforts in reception area fit-outs and we strive in bringing you the best solutions on the market.
Here are some quick tips on how to create a professional yet welcoming atmosphere in your reception area depending on the nature and style of the business, that will help you to immediately create a spatial rapport with every client.
1. Colour Block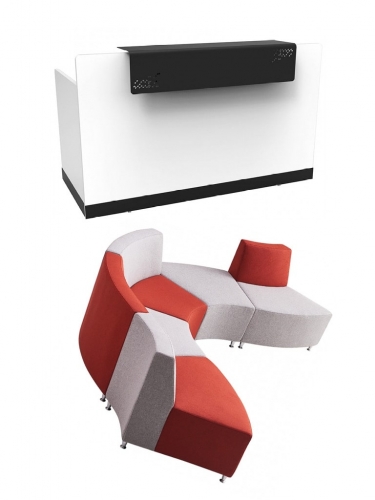 This energetic theme reveals professional yet creative environment. Also, the simplicity of colour block themes allow for easier customisation and extending your branding image to your reception area. Every piece of furniture in our fit-outs can be customised and there is a vast range of material and colours to choose from. Our seating lounges and chairs are dressed in Ashcroft upholstery, a heavy commercial fabric application that incorporates no less than 40% by weight of recycled yarn produced from recycled plastic bottles. At Ikcon we care about sustainability and we are proud of the fact that each metre of Asccroft fabric represents no less than 4 plastic bottles.
2. Creative Bubble
Perfect for young Start-ups or companies in creative industries, this playful range features casual seating solutions such as easy Ottomans, Modular Slider Seating, or Dima Tub Chairs, all available in a range of colours to suit your needs. With the accent on collaborations, coworking, and creative thinking the waiting areas in such companies encourage conversation and communication while being able to allow for social distancing.
Flexibility and versatility are important factors in creative industries, so having the receptions areas that double as working/coworking spaces is a plus. Zoning areas for short meetups and ideas exchange or featuring working and charging stations will create a positive and vibrant atmosphere. Also, if your reception requires separate work/meet zones then our selection of sitting booths are an ideal solution. Moreover, we can tailor everything from reception desks to colours and materials.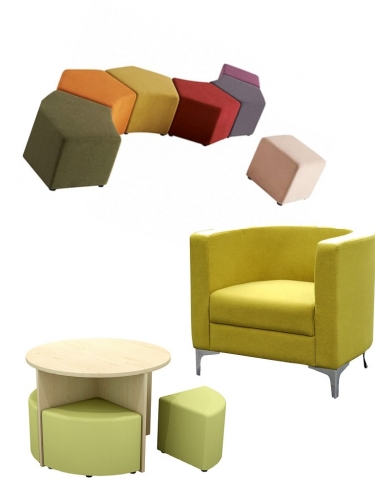 3. Less is More
Companies that work with finances, regulations, or law matters require a welcoming yet sleek and organised reception area. A modern and minimal setting will create a feeling of reliability, trust, and competency into the foyer. Polished yet masculine spaces give an impression of simplicity and getting straight to the point, as well as of a touch seriousness.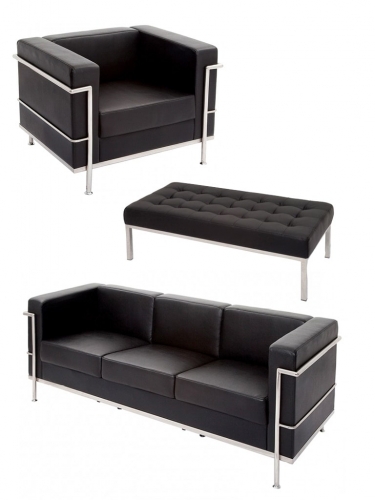 4. Understated Elegance
In an environment that deals with delicate matters, a reception atmosphere should be comfortable and cosy yet allow for privacy, social distancing and give an impression of professionalism and confidentiality. Separating the sitting areas, using high back chairs, or creating little sitting nooks to allow your clients to relax and wait for their appointment in privacy is an optimal solution for such spaces. Chairs from our Soul, Duchess or Sovereign range create a cosy yet formal ambience, perfect for a coffee break in a quiet and safe environment.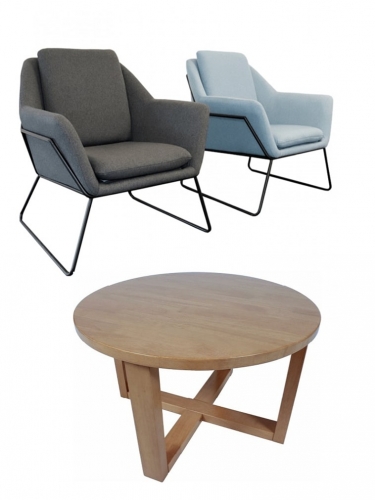 5. Modular Dynamic
Receptions or foyers that require a greater level of flexibility and the ability to quickly change and adapt to various configurations and situations, require efficient modular seating solutions without losing on comfort and functionality. Furthermore, smart furniture allows adaptability to social distancing requirements and it is easy to clean and sanitize. Various modular seating systems are perfect solutions to bring rhythm into any space.
Our Curly modular seating system range is fun and practical, bringing dynamic to any working space. It can be easily configured into different shapes or groups, or be used as a standalone seat, depending on the situation. Curly seating system can be upholstered in different upholstery and custom colour to your needs. Jive modular seating system is a unique, modern, and sleek looking piece that comes in attractive light blue or charcoal ash colours that can be mixed or single toned. Jive seating can be easily reconfigured to suit a different layout such as back-to-back seating, corner lounge or a central island unit.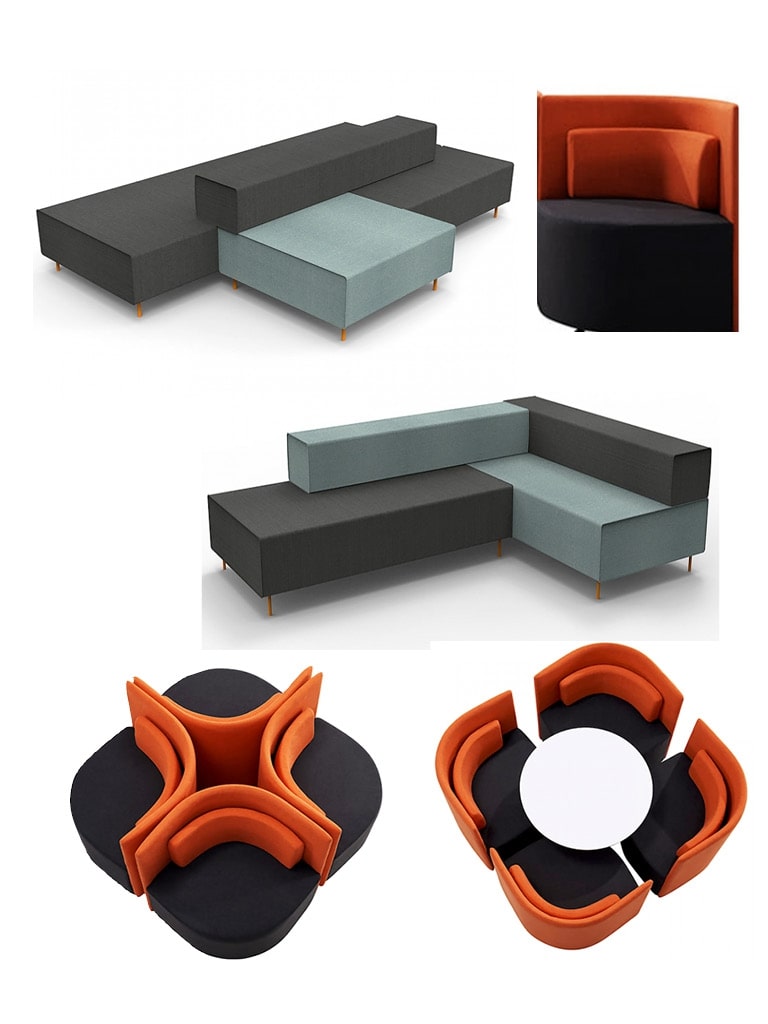 6. One of a Kind Solutions
If you need something tailored to your individual specifications and one-of-a-kind character you are at the perfect place. We manufacture reception fittings to any shape or size, using any material, from laminates and stone to glass and steel. Also, our commercially graded upholstery comes in an array of colours and it is woven to precise specifications and tested to exacting standards for colourfastness, abrasion, inherent stain resistance and safety. With our superior service and extensive range of office furniture & office fit-outs products we are ready to meet your spatial needs and we guarantee professionalism and quality.